Xyolo Nyote
Improvised electronic music with Teonas Borsetto. Lights and other visual / scenic elements as a complement to sound. Below: studio sessions at ExLab, Graz, September 2022. Camera: Mykola Karpyk.
EN
x/n is Daniele Pozzi and Teonas Borsetto. Born in Northwest Italy and currently living in Graz, Austria. Mainly active in the experimental electronic music and sound art scene, and in radical improvisation with digital, acoustic, hybrid and augmented instruments. 2020 they form an electroacoustic duo based on shared feedback systems for live performance and improvisation. Using different audio programming and DSP techniques, microphones, loudspeakers and other types of transducers they create hybrid assemblages where both performers and machines lean on the shared acoustic environment as a medium of energetic and informational exchange. A fundamental aspect of this experimentation is to investigate how specific systems of relationships lead to the emergence of sound forms open to extemporaneous musical interactions.
IT
x/n sono Daniele Pozzi e Teonas Borsetto. Originari dell'Italia nord-orientale (Padova e Udine) vivono attualmente a Graz, Austria. Sono attivi principalmente nella scena della computer music sperimentale, della sound art e dell'improvvisazione radicale con strumenti digitali, acustici, ibridi e aumentati. Nel 2020 formano un duo elettroacustico basato sull'uso di sistemi condivisi di feedback per la performance e l'improvvisazione. Attraverso l'uso di processi algoritmici reiterati, e sfruttando le proprieta ricorsive di fenomeni fisici come l'effetto Larsen, creano reti di relazioni tra elementi digitali (computer) ed elettroacustici (microfoni, altoparlanti, trasduttori di vario tipo) che generano fenomeni sonori emergenti che evolvono nel tempo secondo dinamiche non lineari. Un aspetto fondamentale di questa sperimentazione è indagare come specifici sistemi di relazioni portino all'emergenza di forme sonore aperte ad un'interazione estemporanea e musicale.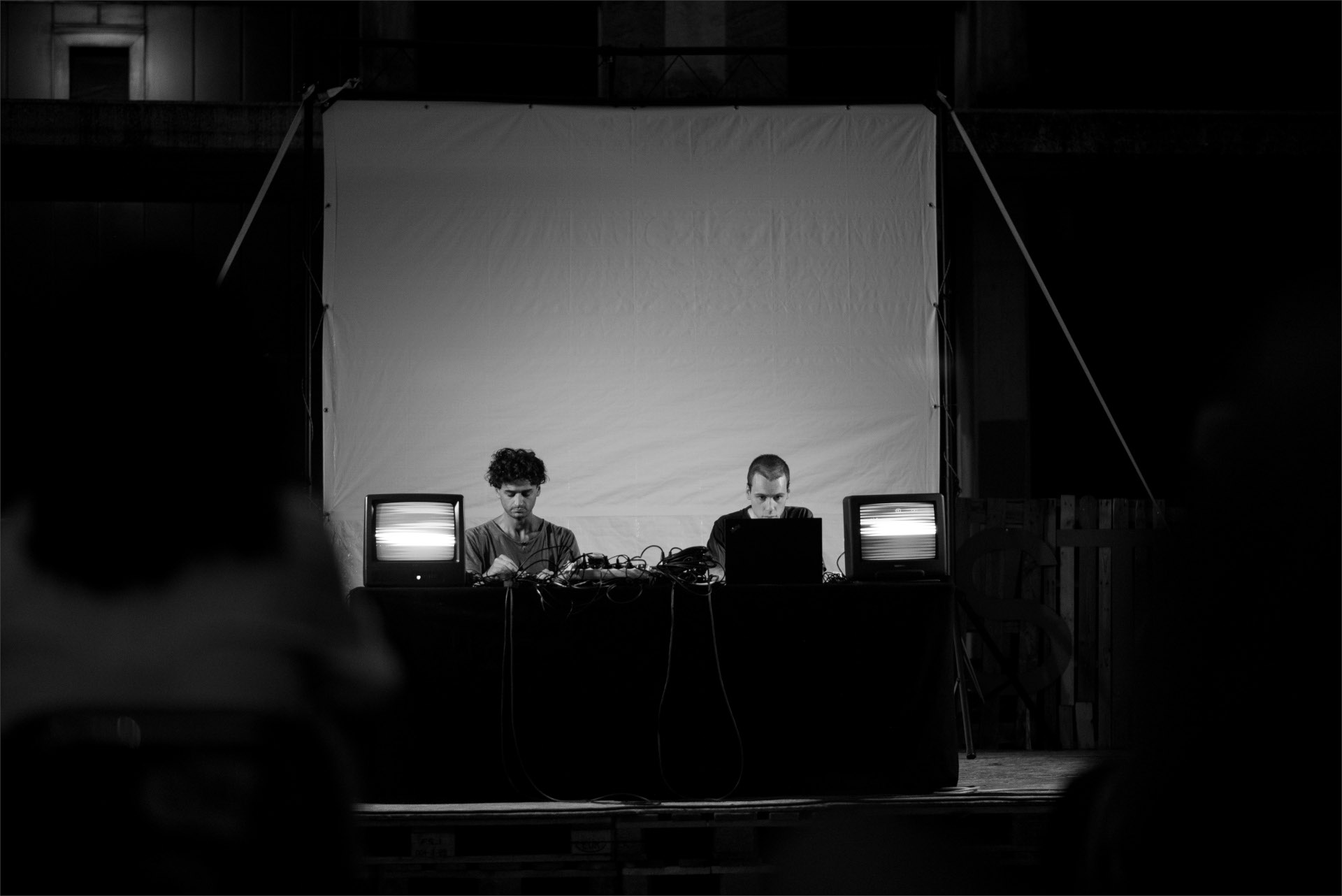 Xyolo Nyote @ NADIR, Taverna Maderna Festival, July 2021. © Nina Marranconi
contact: xyolo.nyote[ a t ]gmail[ d o t ]com